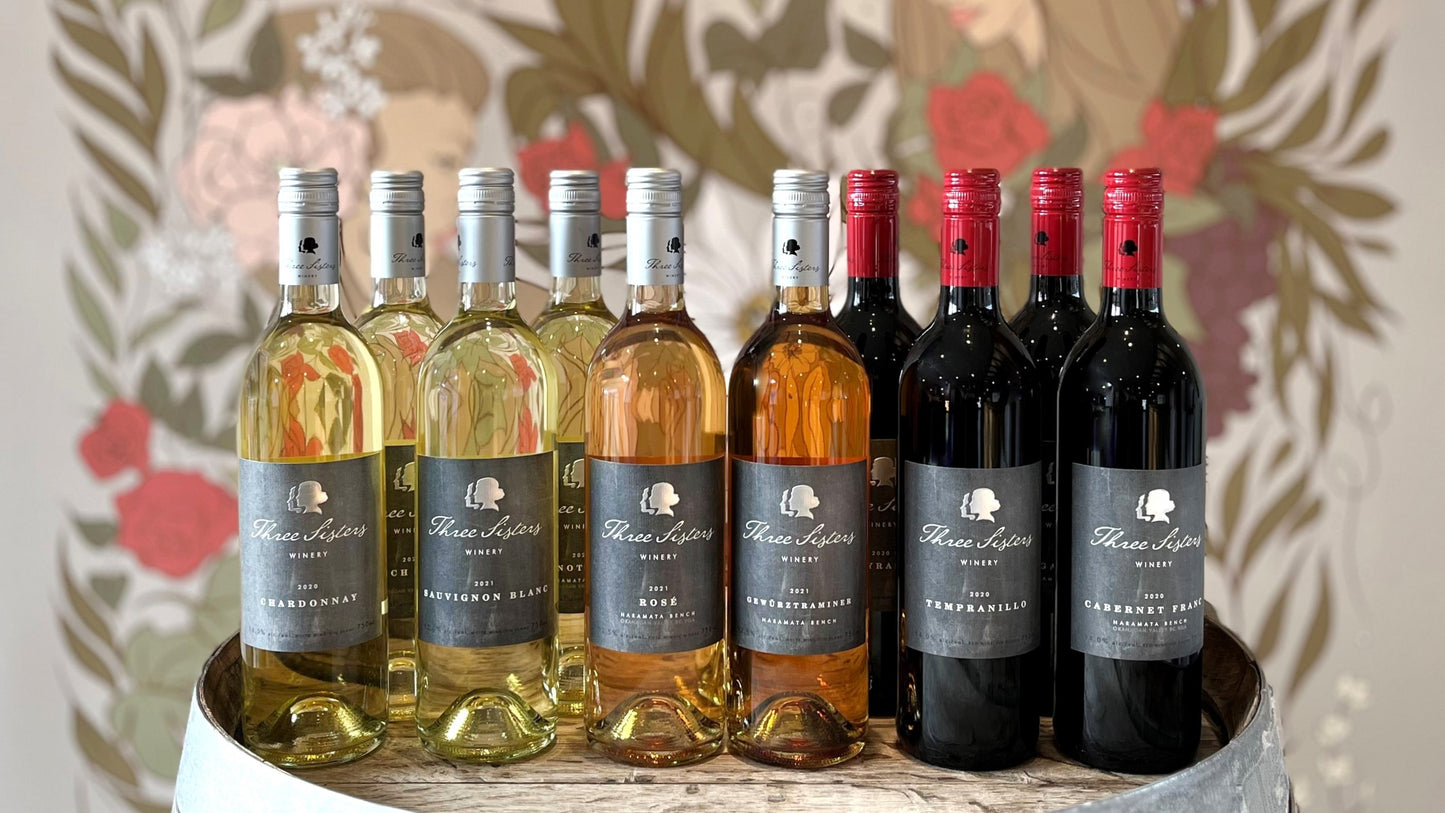 At Three Sisters Winery, our main mission is to make elegant but approachable wines for everybody to enjoy.  We want to impress connoisseurs of course, but we also want to delight those who are new to wine. 
So what's our Wine Club all about?
It's two shipments of 6 pre-selected wines a year!  In April you'll be the first to receive our latest vintages, and in October you might catch a preview of something we haven't released yet.  We offer 3 different options - All White & Rosé, All Red, or Red, White & Rosé.  Sit back and let us curate some wine for you – we'll send some of your favourites, but we also might send something you haven't tried yet.  A favourite in the making!
Included are detailed notes and suggestions for each wine.  If 12 bottles over the year doesn't quench your thirst, you can also enjoy your 10% Wine Club discount on purchases at our shop and online.
Extension of our home and our family...
Every time you come to Three Sisters Winery, we want you to feel like you're walking into our kitchen to enjoy some Chard over a good chat.  You'll receive complimentary tastings and the opportunity to try our new Specialty Wine Club tasting.  If you're keen to learn more about our wine straight from our winemaker himself, we offer a 50% discount on Winemaker's Tastings with Matthew Mikulic.
As Wine Club family members, you'll get early invites to all our events.  In fact, as your family, we'll be hurt and offended if you don't attend.  Just kidding!  We will also welcome you to our annual appreciation event, where we'll be giving away some amazing prizes.
If you can't visit in person, we want to make sure you get the same warmth, welcome, and excitement when you open your Club shipment.  We want the first sip of wine to transport you here to our tasting room in the beautiful Okanagan.
Our wines are for everyone, any time, and we think of our Wine Club shipments as an experience for the Club Member.  Maybe your Club shipment is a dinner party waiting to happen, or maybe it's several long afternoons and nights in with your favourite book.  Choose your own adventure!
Like the sounds of all of this?  Join today or read more on our Wine Club page.