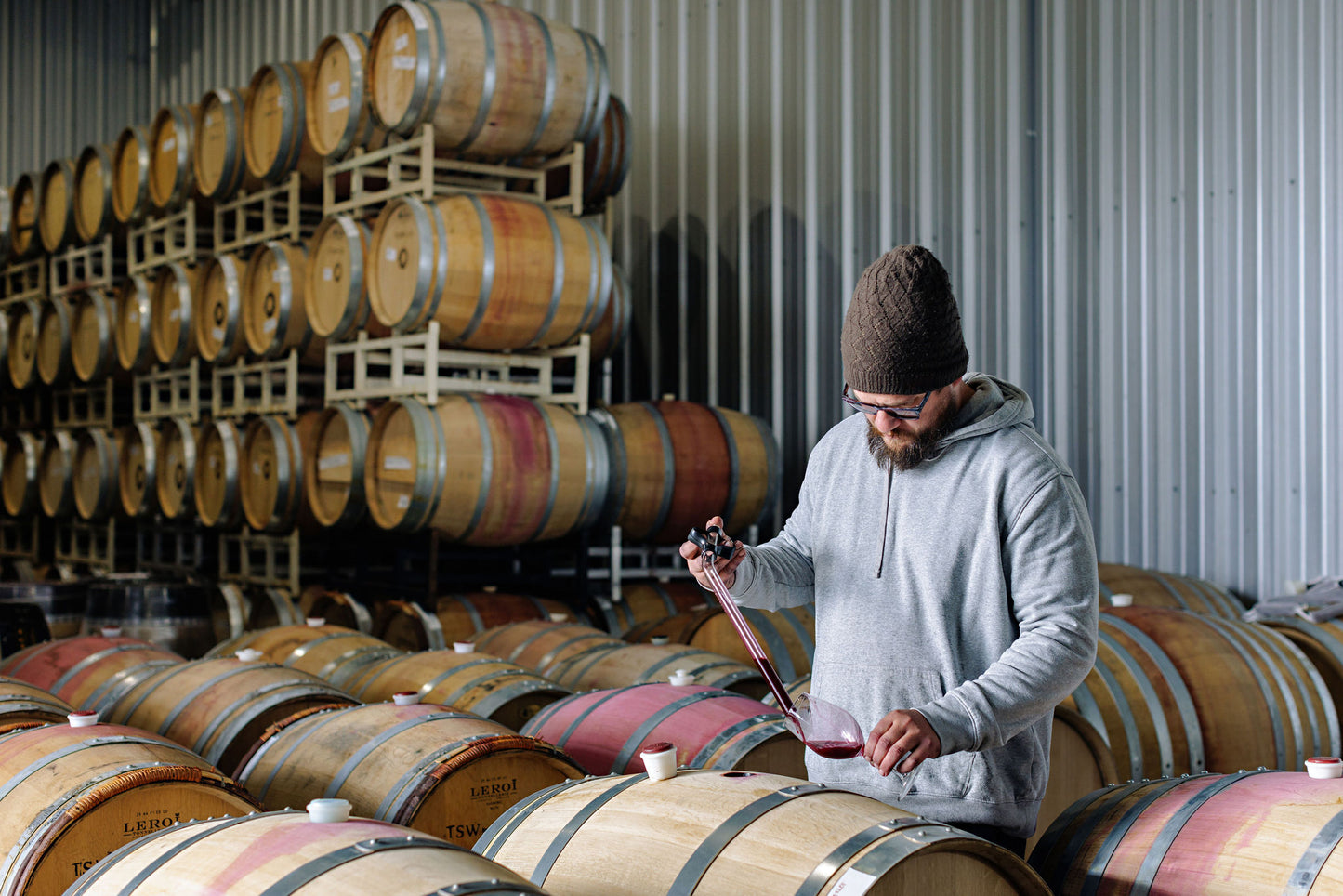 Winemaker Matthew Mikulic                   
Photographer:  Jon Adrian
We're excited to announce that we are currently bottling!  Many wines that you've missed will soon be back in stock.
Winemaking and Bottling
The hard work of winemaker Matthew Mikulic and his team is coming to fruition on the bottling line!  Making wine is a labour of love – every bottle hitting our shelves was years in the making.  Fruit harvested in 2021 and 2022 go through two seasons worth of winemaking, blending and barrel ageing, then finally you get to taste what Matthew's been up to!
Fan Favourites
Our classic Bench White and Bench Red are now gracing our shelves and website.  We can confirm that both blends are as easy-drinking and delicious as ever!
We've definitely been missing our crisp and refreshing whites – Pinot Gris, Sauvignon Blanc, Viognier and Pinot Auxerrois get two thumbs up and are 100% patio approved!
Look out for Gamay, Cabernet Franc and Syrah to complete our red collection.  Gamay is ideal for lighter fare and lighter times, while Cabernet Franc and Syrah are both incredibly full and robust.
Rosé is back, 100% Pinot Noir with an elegant hue and notes of strawberries and cream.  Pretty Women is a sparkling treat with a bright pink tone to match it's incredibly bright flavours. Drink Pink with us June 10th, stay tuned for more details!
New for 2023
It's a great year to Drink Pink, because we have a new family member - Bench Rosé!  Our first White Zinfandel is super juicy and berry delicious!
We're also producing our first reduced-alcohol wine, an idea that's been near and dear to us for a while.  Chardonnay Luminé is a lighter expression of a classic, with bright notes of apple complemented by a toasted almond finish.
And lastly, we are finally going to complete the Sister Series collection!  Kiki, named after Matthew's youngest sister, will make her grand entrance later this year.  Are you red-y?  She is!  
We hope you're as excited about our new releases as we are! 
Cheers from our family to yours.