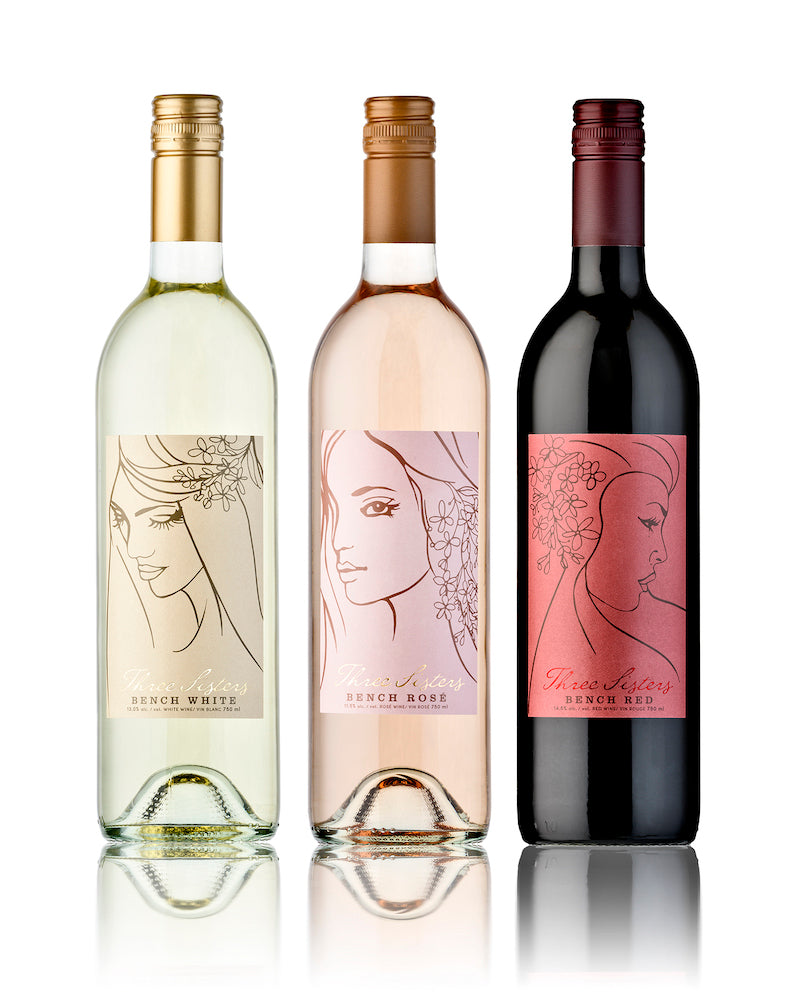 We are proud to introduce our new Limited Edition wines!  We made these wines to bring family and friends together in an experience rooted in love and creativity. 
The Limited Edition Bench White and Bench Red are unique wines showcasing a blend of varietals from across the Okanagan Valley and the Limited Edition Bench Rosé is our first ever White Zinfandel.  Each wine holds the Three Sisters winemaking philosophy and is made to be balanced, approachable, and sophisticated. 
The limited release labels were inspired by the original "Story of Three Sisters" artwork on display in our tasting room.  This work was hand painted by our sister Marina Billinghurst, founder of Art of Marina who's gallery also lies on our property.  Each beautiful sister is featured on our Limited Edition labels representing the beauty and craftsmanship in each wine. 
For the month of June, we're excited to announce that we'll be partnering with Big Brothers Big Sisters BC!  Their mission is to enable life changing mentoring relationships to ignite the power and potential of young people, and we are happy to help.  Read more about Big Brothers Big Sisters on their website.  In June, we will donate $1 per Limited Edition Bench bottle sold to this amazing organization.
The Limited Edition Bench wines are only available in our tasting room and online.  Available while quantities last! So, who are these Bench beauties?  Read on for notes and pairings for each wine!
This delightful wine brings bright and fruity notes to any patio experience!  Zesty citrus notes intermingle with riper tropical tones of melon and guava.  Light, dry and refreshing, we often refer to the Limited Edition Bench White as a glass of fruit salad! 
Limited Edition Bench White pairs excellently with summer salads, hard cheeses, grilled chicken and fish, and take-out sushi!
The newest family member at Three Sisters Winery, this wine is our first ever White Zinfandel!  A stunningly light colour, this wine is dainty on the nose but surprises with an explosion of flavour on the palate.  Dynamic notes of raspberry and cherry are perfectly complimented by lemon drop and green apple flavours!
Limited Edition Bench Rosé is perfect with niçoise salads, softer cheeses, grilled shrimp, and your Thai take-out!
This wine is a perfect blend of Merlot and Cabernet Franc in almost equal measure.  It's our go-to red for good reason!  Round, full bodied and voluptuous, it's also soft, silky and easy-drinking.  Deep notes of dark cherry and plum are accompanied with savoury red pepper and smoked cedar.
Limited Edition Bench Red is at its best with strong cheeses, steak or burgers, spaghetti Bolognese, and of course, your cheeky Friday pizza!
While each of our Limited Edition Bench wines are fabulous on their own, we truly believe they are better together!  Currently on our website as a 6 bottle feature, we invite you to try these wines today while this limited run is still available.
Cheers from our family to yours!